Awards

'GRAND PRIX' Award Winner - Moscow Intl Film Festival, RUSSIA
'GRAND PRIX' Award Winner - L'Institut Oceanographique de Monaco,
MONACO
'GRAND PRIX' Award Winner / 'Meilleur Film Animalier' Award Winner -
Antibes Underwater Film Festival, FRANCE
'Best Animal Behaviour Film Award Winner - Moscow Intl Film Festival, Russia
'Best Film' Award Winner - Belgrade International Film Festival
'Best Film' Award Winner - British Underwater Image Festival, UK
'Best Underwater Cinematography' Award Winner - IWFF Montana, USA
'Gold Remi Award' Winner - Worldfest Houston, USA
'Best Film' Award Winner - North Sea Film Festival Amsterdam, THE NETHERLANDS
'Silver Medal' Award Winner - Chicago Underwater Film Festival, USA
'Platinum Award' Winner - Houston International Film Festival, USA
'Silver Award' Winner - Belgrade Underwater Film Festival
'BEST FILM' Award Winner - Moscow Golden Dolphin Film Festival, RUSSIA
'Premio Especial' Award Winner - Ciclo Internacional de Cine Submarino San Sebastian, SPAIN
'Special Jury Award' Winner - International Wildlife Film Festival, JAPAN
'Special Jury Award' Winner - Cinesub Valencia, SPAIN
'Palme de Bronze' Award Winner - Festival Mondial de l'Image Sous-Marine, FRANCE
'Best Film' Award Winner - Underwater Film Festival, Cyprus
2x 'Best Film' Award nominee- Tiburon International Film Festival, CALIFORNIA
2x 'Roscar Award' nominee - WILD TALK, South Africa
'Best Underwater Film' Award Nominee- Earth Vision, JAPAN
'Best Film' / 'Animal & Man' - International Wildlife Film Festival, ESTONIA
Best Film Award nominee, Green Screen, GERMANY
2x 'Best Film' Award nominee-NOAA/Grays Reef Film Festival, USA
'Best Film' Award nominee - Wildlife Vaasa, FINLAND
'Best Film' - Envirofilm SLOVAKIA
'Best Underwater Film' Award Nominee - IWFF Montana, USA
'Best Director' Award nominee - Green Film Soeul, KOREA
2x 'Best Underwater Cinematography' Award Nominee - ACFF USA
2x 'Best Film' Award - Santa Barbara Ocean Film Festival CALIFORNIA

"Opening sleepy eyes", helping scientists and researchers to unfold marine life's secrets, "Water Colors" really opened new horizons for science, as well as underwater film making and the study and understanding of underwater communication and marine animals lifestyle! It's a truly fascinating new chapter of science, that will enrich peoples perception of life and color in general"...
- (International Wildlife Film Festival Finland)


"Some of the most beautiful and unusual work we've ever seen…"

- Gail Krueger, NOAA

"Water Colours is a pioneering breakthrough in underwater communication and a landmark step towards improving our understanding in this field.."
- National Geographic Television International
WATER COLOURS EPISODES
6x30'/3x50'
AQUATIC ILLUSION - Episode 1
In the stunning pacific islands, a quest begins to find the true meaning of the fishes colours. In such vibrant, dazzling display, how do marine animals advertise services, entice mates, yet simultaneously avoid being eaten?
Crypsis, camouflage, mimicry and masquerade: witness colour as an integral part of social behaviour. Unravelling the paradox of disguise and display, discover a world of illusion, not designed for human eyes. 'Aquatic Illusion' is an intricately structured portrait of a complex world of colour - and a provocative revelation of a world, where all is far from what it seems.


INTO FISHEYE - Episode 2
To understand a world not designed for human eyes, we need to see it from a different point of view.

Invisible colours, eye metamorphosis, secret wavelengths and vision beyond anything we can perceive; how they see, what they see and the astonishing discovery that in their world, we're blind….
Introducing footage exclusive to 'Water Colours' and entirely new to science, 'Into Fisheye' is a dive deep into the fishes eyes and the astonishing revelation about what they really see.

A COLOURFUL LANGUAGE - Episode 3
Marine animals manipulate colours to transform the way they look, switching colours and patterns to express emotion and mood, altering position and behaviour, depending what they want to say.. From the stunning Pacific to Australia's exclusive Marine Research Stations, the team join leading Scientists, in a dynamic search for answers.
Colourful patterns are measured and analyzed, complex displays deciphered and behaviour understood. In a landmark breakthrough in understanding, illusive messages are interpreted; bringing the revolutionary discovery that colour is the cryptic language of the fish!
Inspirational, powerful and exhilarating: Opening our eyes to a language of colour, for the first time ever, we start to 'hear' what marine animals are saying.

THE CHANGERS - Episode 4
Setting sail aboard the magnificent 'MV Santa Maria', a team of marine explorers research and explore the enigma of colour change.

Controlling how they look, altering patterns on a whim and instantaneously 'turning on' spots and stripes, marine animals share words of love with a mate on the left, and simultaneously shout warnings to an aggressor on the right. How does the master of camouflage become colours he can't see? Why radically transform, in the blink of an eye?

Colour is the language of love and emotion, tricks, scams, anger, pleasure and fear. Talking and gesturing in ever-changing display, how do marine animals change colour? Why do they change colour? And what are they saying, when they do?

MAGIC BLUE WAVE - Episode 5
Compulsive viewing transporting us back to premier ocean discovery - In a world where communication is ruled by colour display, marine animals have adapted to the underwater blues, by changing colour themselves - and, by changing colour, itself!.
Revealing mind-blowing behaviour never seen or filmed before, astonishing images new to science and extraordinary phenomena, still far from understood, 'Magic Blue Wave' is a sensational world premiere, exploring the magic of underwater fluorescence and the inconceivable ability of marine animals to change one colour, into another.
From Green Blennies becoming pink, to the exhilarating first ever 600m fluorescent shark, as marine animals change the very course of nature itself, vivid, electrifying images only heighten the ultimate questions of how they do this, and why.
INVISIBLE WAVES - Episode 6
How can we truly understand a language of colour, if marine animals talk and display in colours we cant see?
At the cutting edge of marine science, 'measuring' the wavelengths to 'see' colours we can't perceive reveals hidden signals, invisible displays, polarization and UV. Flashing ultra violet messages indecipherable by predators, communicating in patterns visible only to select eyes, the fish talk animatedly in cryptic channels of colour. Using the latest technology to interpret a language beyond our visible range, in the most intimate, exhilarating understanding yet, discover the 'secret' language of fish.
..."(Water Colours is) a timely and unique portrayal of the fascinating and virtually unknown world of underwater colour communication,… a pioneering breakthrough in science, and a landmark step towards improving our understanding in this field"…
- National Geographic Television International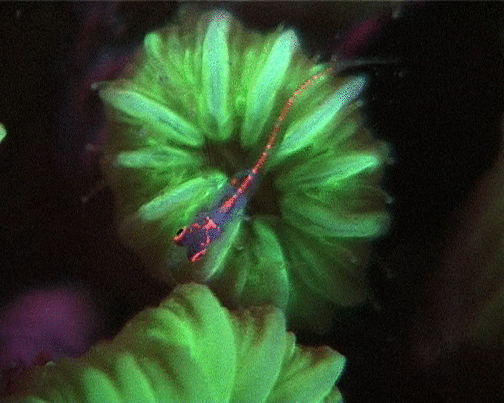 Fluorescence is the absorption of one wavelength of light, or colour and the re-emission of another. Simply, a fluorescent object under white light reveals its true colour. But under near UV light, it absorbs the blue nd re-emit a fluorescent colour, transforming the blue into a brightly glowing, totally different colour... New to science, barely witnessed, still far from understood - marine animals defy nature, by changing colour, ITSELF!.

"The odds of you going in the water and finding something, seeing some animal fluorescing, that no-one else in the history of the universe has ever seen is probably over ninety percent! Anywhere in the world. Simply because so few people have done this"...
DR CHARLES H. MAZEL Ph.D

"Really superb films with strong scientific underpinnings, beautiful music, and a compelling narration - How brilliant I found them to be. Not only was the photography striking but the concepts are revolutionary."
Mark Madison, Ph.D., U.S. Fish and Wildlife Service; American Conservation Film Festival

Enigmatic, mystical, spellbinding adventure - a powerful, dazzling revelation of marine animals, as they really are"
The Bonaire Reporter
WATER COLOURS
THE SERIES

EXCLUSIVE
DIRECTORS CUT
3X 1 HOUR FILMS

$65.00

(+

shipping